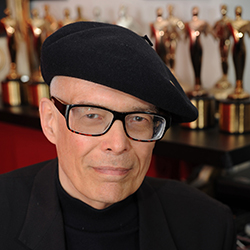 Ronald Dean Myrvik, Director of Photography, Camera & Editing
Ron has been a film and video professional for decades. Since his days at the High School of Art & Design, and the NYU Film School, he has won more than two dozen National and International awards for his work as Director, Cameraman, and Editor: from the New York Festivals, the Telly Awards, the Cine Golden Eagle, and the Houston International Film Festival, among others.
In his career, Ron has worked on commercials, documentaries, TV shows, music videos, industrials, fashion videos, feature films, etc. He has shot celebrities such as J-Lo, Ashanti, Kofi Anan, Henry Kissinger, Mira Sorvino, Sting, Sally Fields, Douglas Fairbanks Jr, Van Johnson, Tony Randall, Jack Nicklaus, David Bowie, James Levine, Luciano Pavarotti, Mstislav Rostropovitch, Robert Merril, Janis Ian, Joan Baez, Martin Scorsese, Steve Allen, Bjorn Borg, and dozens more.
Clients have included Ford, Kraft, HBO, A&E, Dupont, Monsanto, Glamour, PBS, Prudential, NY Life, AIG, Met Life, Citibank, ABC, Dentsu Japan, and many more.
In-house capabilities include non-linear broadcast quality video editing, and award-winning 3D animation and graphics, as well as DVD & Blu Ray authoring.
Ron's work is evidence of sterling credentials, from a professional with a real passion for his work. Watch his Camera Reel

He has Produced, Directed, Shot, and created Graphics and Animation on a Gertrude Stein Video Opera and companion documentary that, combined won 5 Awards. He also Co-Produced, Directed, Shot & Edited a one hour video opera version of the Ionesco classic "The Bald Soprano", with extensive computer graphics and animation, and has finished a documentary on the making of a new "Alice in Wonderland" Opera, as well as the Opera itself, which was released on DVD by Albany Records.